September 28, 2021
SpinNet Customer Support Center


What is risk to sending and receiving emails using Non-SSL?
When you use a standard POP and SMTP connection to download and send your email, your username and password is sent in cleartext across the Internet.
This means that anyone using the same wireless connection as you, or the same network as you to see, your Internet traffic can potentially "intercept" and read your username and password.
With this information, they can read all your email and worse, steal confidential information, send out spam or other malicious acts.
Therefore, in order to enhance security, SpinNet will end the providing Non-SSL authentication on August 1, 2022, and will require the use of encrypted authentication (POP/SMTP over SSL).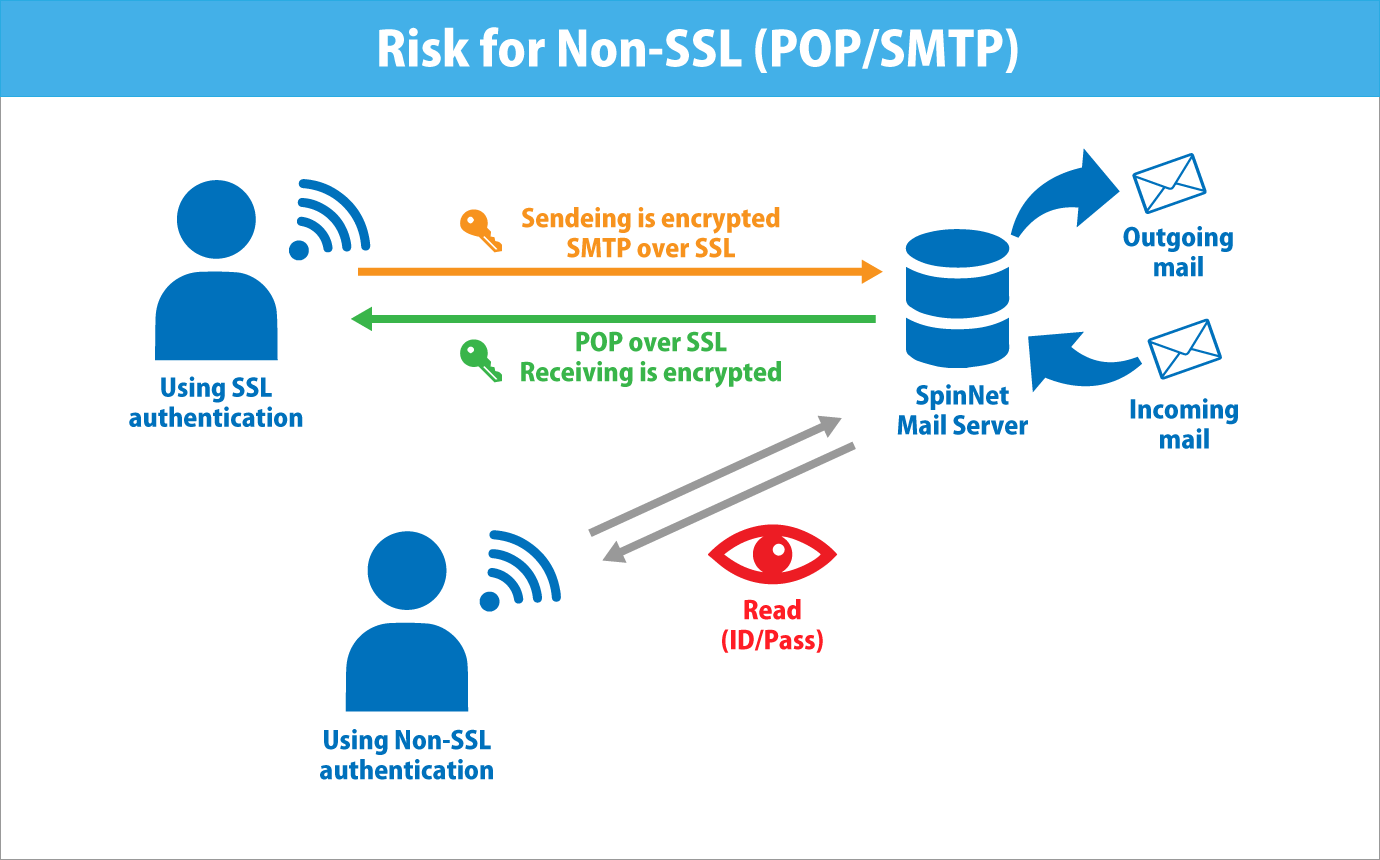 The effect of this change
SpinNet will disable Non-SSL POP/SMTP authentication from August 1, 2022 in order for security enhancement. If you are using Non-SSL POP/SMTP authentication, you will not be able to send and receive emails. Please confirm your email software setting.
* There is no effect on SpinNet Web Mail
What is SMTP/POP over SSL authentication?
This is a method that prevents sniffing by encrypting the connection between a mail software and a mail server.
It is called POP/SMTP over SSL which combines two functions that encrypts incoming mails and outgoing mails using SSL(Secure Sockets Layer), which is a standard encrypting method.
A configuration is required when you use it.
How to check settings on the email software
Please refer to POP/SMTP over SSL in Software Setting Guide page in order to configure your email software.
[Basic configuration for POP/SMTP over SSL]
Name
Value
Incoming
Server
Protocol
POP3
mail server (POP3)
popssl.att.ne.jp
mail server Port (POP3)
995
mail server SSL Setting

SSL/TLS

Outgoing
Server
Protocol
SMTP
mail server (SMTP)
smtpssl.att.ne.jp
mail server Port (SMTP)
465
mail server SSL Setting

SSL/TLS

User Name
Your mail address
Password
Your mail password
Notes
We will disable TLS1.0/1.1 in order for security enhancement. You will encounter problem when you configure POP/SMTP over SSL on your email software which does not support TLS1.2 connection.
[Solution]
Update your email software


Please update your email software if later version is released.

Install another email software


Old version of OS or email software might not be able to POP/SMTP over SSL. Please update to the latest one in order for secure access to SpinNet mail server.
FAQ